Welcome Navy Nurses, Corpsmen, Marines and Friends...
Since the introduction of the book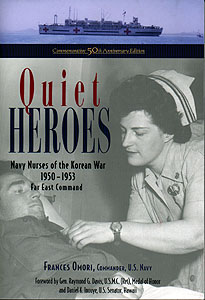 authored by CDR Frances Omori USN., there have been several reunions celebrating not only the Nurses & Corpsmen written about in Quiet Heroes but Marines too who fought so gallantly in the Korean War.
The banners below are quick links to each reunion and are listed by year starting with the most current reunion. Thank you for taking the time to visit these pages as this will help to keep alive the memory of the courageous and humanitarian service performed by these ladies and gentlemen. Service that went far beyond the call of duty to a country or its citizens. Service that was performed for the love of fellow man. Service that has hardly been known or acknowledge except by those who received it during their darkest hours of life. Service that always came with a soft smile , a gentle word but most importantly that brought with it a measure of hope. So click on any of the banners below and see what Angles here on earth look like...




---

©2003 Chip Feise Location Photography All Rights Reserved