It all started at a Luau...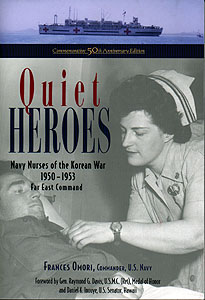 While researching material for a speech delivered at the Women's Memorial's first Memorial Day ceremony, I was amazed at how many women served our nation throughout history. Their accomplishments were even more inspiring. A few have been honored, many are virtually unknown. There was very little information on women who served during the Korean War.
I volunteered at the Women's Memorial to conduct oral histories of women who served during the Korean War. Inquiring letters were sent out. Very few responded. Others claimed they did nothing important.
In May 1999, I attended a luau (Hawaiian party) in Lorton, Virginia. I sat next to Christina Affleck, who like me, grew up in Hawaii. After reminiscing about taking hula lessons as children, I told Tina about the difficulty in finding female Korean War vets. Tina responded, "My mom, Marilyn, was a Navy nurse during the Korean War. She'll talk to you. She's not shy."
Marilyn Ewing Affleck has opened up a new world for me....a world I never knew existed. I met Navy nurses of the Korean War with unfaltering patriotism; a deep, soul-felt love of goodness; a passion for life; and spiritual effervescence that touches all who come in contact with them.
When I asked the U.S. Marines, who were patients, about their nurses, their heartfelt stories were overwhelming. I began to realize why Navy nurses of the Korean War are truly our Quiet Heroes.
Frances Omori, Commander, U.S. Navy July 2000.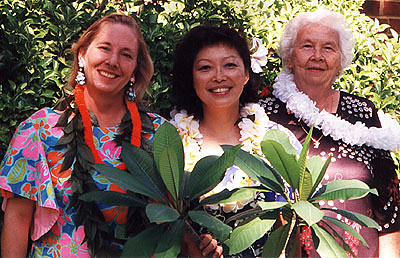 LtoR: Christina Affleck, Commander Frances Omori, Marilyn Ewing Affleck.
For more information about her work please e-mail Commander Omori at: QuietHeroesKorea@aol.com
If you are interested in obtaining a copy of Quiet Heroes then please click here.
---